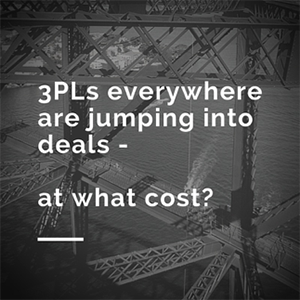 Merger fever is sweeping the logistics industry. 2015 activity has reached its highest level since the recession, with nine major deals already announced this year, according to supply chain consulting firm Armstrong and Associates.
France-based GEODIS is the latest third-party logistics (3PL) provider to take part in the trend, announcing in August that it plans to acquire OHL for a reported $800 million. The news comes on the heels of several other high-profile deals, including XPO Logistics' acquisition of Norbert Dentressangle SA for $3.53 billion and FedEx's purchase of GENCO for $1.4 billion.
The Midwest has been a flash point for much of this consolidation, cementing its status as a hub for the freight brokerage industry. Recent notable deals include UPS' acquisition of Chicago-based Coyote Logistics for $1.8 billion, the largest truckload brokerage acquisition in U.S. history, and Chicago-based Echo Global Logistics' purchase of Command Transportation for $420 million. 
3PLs cite cross-selling opportunities, diversifying service offerings and improved geographic coverage as key reasons for joining forces with fellow providers. While outsourced logistics has historically been a heavily fragmented industry, this tidal wave of activity is also helping providers reach unprecedented sizes. According to Armstrong and Associates, the five largest global 3PLs all earned more than $10 billion in gross revenue in 2014.
In the midst of all this consolidation, don't let your company get lost in the shuffle. TalaTrans partners with its clients to provide high-touch shipping services, functioning as a seamless extension of your logistics department. While other 3PLs move toward providing myriad services to countless industries, we focus on Latin American shipping, helping clients navigate cultural and language barriers that can hinder supply chain efficiency.
With offices in Chicago and Miami, our team brings more than 30 years of combined logistics experience to meet your business' unique needs. Whether you need air, ocean or freight services, TalaTrans ensures a seamless process each step of the way, providing customs clearance support, regulatory paperwork assistance and other services to help you navigate the Latin American shipping process successfully. 
It's a big world – don't let your business get lost in it. Contact TalaTrans today to learn how we can help with your Latin American shipping needs.