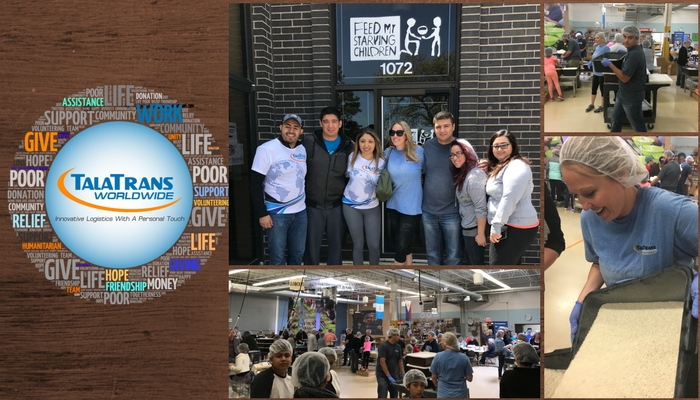 This past weekend TalaTrans Worldwide was fortunate enough to be able to participate in a Feed My Starving Children event. For those of you who are unfamiliar with the Feed My Starving Children foundation, it is non-profit organization started in 1987. With the help of their volunteers, they help to make meals which are specifically formulated for malnourished children. The organization's mission is to be able to feed all of God's children, even the ones in the hardest places to reach. The type of meals prepared for the children are rice, soy, dried vegetables, and a mix of vitamins and minerals. All of which is then sealed and shipped off to the countries where kids need it most.
Employees and their families of TalaTrans Worldwide combined to make a volunteer team eager to lend a helping hand. The goal for this packing session was to box a total of 169 meals for Haiti. They were able to surpass their goal and complete a grand total of 246 boxes of food.
Here is what our team had to say about the event:
Q: What did you think of the event?
A: I believe that it was a great event that allows us to come together as a caring community to lend a hand to those in need. We live in a fast-paced society and many times can forget how fortunate we are. While we were watching a video of some of the children that have benefitted from this organization, it reminded me that it is not always about yourself or your family. There are many people in need, and we must come together as humanity to provide any possible help we can.
Q: Describe your experience.
A: Exhausting and rewarding – I oversaw the of collecting full boxes from all the stations, weighting them, sealing them and palletizing them. Once a box was full – the team would alert me and I quickly collect the box so they could fill up the next one. During our 2-hour period, we managed to fill out 246 boxes which surpassed the goal of 169 boxes.
Q: What did you like about the event?
A: The amount of teamwork there was – all the stations work together as quickly as they can to pack as many bags as they can. The runners replenished all items in the stations to avoid any setbacks – the boxers built all necessary boxes to make sure no station would be without a box and the box runner took all full boxes away from stations to make room for new ones.
Q: What did you dislike about this event?
A: In all honesty, there was nothing that I did not like about this event or this organization.
Q: How friendly/helpful was the staff?
A: The staff was very helpful, understanding, patient and knowledgeable during the session. Such a pleasure to work with them.
Q: What was your impression of the organization?
A: Seems like a very well organized and very proactive organization.  It was a real eye opener that I think everyone should experience or be a part of.
Q: Would you recommend other companies/families to part take in this event?
A: Absolutely, no doubt about it. Personally, I would really like to sign up again. Whether we went as a company or participated alone. I will definitely be returning and lending a hand again.
If you would like to help the Feed My Starving Children Foundation, please click the link below to find a location in your neighborhood!