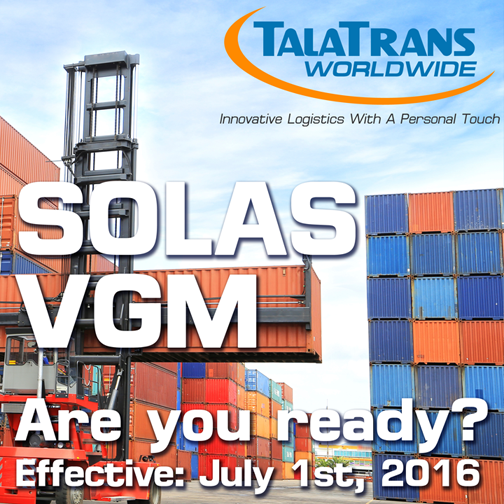 Verified Gross Mass
IMPLEMENTATION OF THE SOLAS AMENDMENTS EFFECTIVE JULY 1ST, 2016.
SOLAS convention is applicable global law. The SOLAS amendments become effective on July 1, 2016 for packed containers received for transportation (gate-in or off-rail).
Amendments to the International Convention for the Safety of Life at Sea ("SOLAS"), to which the U.S. is a signatory, will go into effect globally on July 1, 2016. In general, the amendments require shippers to provide the Verified Gross Mass ("VGM") of containers carrying cargo before those containers can be loaded aboard a vessel. Without a VGM, the amendments also prohibit the vessel operator from loading a packed container.
Shipper Responsibilities 
Because the Shipper is uniquely situated to know and report the weight of the container, the Shipper determines the VGM for the loaded container using one of the two methods provided under SOLAS regulations. Pursuant to the SOLAS regulations, the Shipper may calculate VGM by:
METHOD 1. Weighing the packed container using calibrated and certified equipment; or
METHOD 2. Weighing all packages and cargo items, including the mass of pallets, dunnage and other securing material to be packed in the container and adding the tare mass of the container to the sum of the single masses, using a certified method approved by the competent authority of the State in which packing of the container was completed.

IF VGM IS NOT RECEIVED, THE CONTAINER CANNOT BE LOADED ON TO THE VESSEL.